Cleanse and clarify complexion with WOW Skin Science Ubtan Face Wash. This face wash has a blend of natural ingredients that aids in removing deep-seated dirt and lighten patchy skin tone. It also helps to moisturize skin and even out complexion. It helps to tone and moisturize and protect skin from environmental damage. It supports in removing skin imperfections, control excess oil and soothe the skin. It is infused with Almond Extract, which contains vitamin E and antioxidants, it helps exfoliate and prevent fine lines and dryness. Rose water oil Mineral rich skin coolant and toner, helps firm up the skin, even out complexion and give it a soft glow. Chickpea Flour aids in removing dead skin layer and fine hair from face. It can be used to help make skin look healthy and bright. Suitable for all skin types, this face wash can be used to restore skin's natural radiance and suppleness.
You Can Buy Our Ubtan Face Wash At Best Price From : Amazon, Flipkart, Nykaa, Purplle
---
WOW Skin Science Ubtan Face Wash

This face wash helps to draw out dirt, exfoliate dead skin layer and prevent fine lines and dryness, remove tan, even out complexion and calm irritated skin.
---

When used on a continuous basis, it aids in enhancing skin's texture and the look and feel of the skin.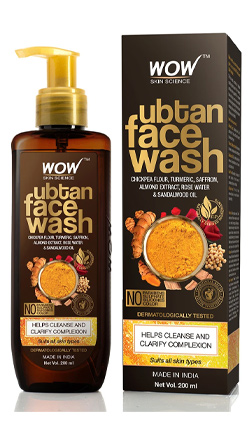 This face wash is made from traditional natural ingredients which aids in moisturizing skin and protects skin from environmental damage.
---

Contains no parabens, sulphate, color or silicones and helps to deliver maximum benefit.
---
WHY YOU WOULD LOVE THIS FACE WASH
Helps to remove dead skin layer and smoothen skin

---
The soft, pliable bristles of the face brush supports deep cleansing of the skin. It helps to slough off dead skin layer and actives helps to repair and restore skin.
Helps to even out skin tone and brighten complexion

---
The wash has powerful antioxidants, UV protectors and melanin blockers that keep excess melanin in check and boost skin radiance. It helps to reduce spots and patchy skin tone.
Helps to prep skin for better hydration

---
This foaming face wash helps to clear away dirt and pollutants from the skin, which
---
Key Ingredients
Turmeric - Have skin-protecting properties that prevent damage caused by the sun, helps to reduce scars and soothe skin irritations

Saffron - Antioxidant and nutrient rich active that helps to remove tan, even out complexion, and protect from UV rays.

Chickpea Flour - Rich in zinc; it helps remove dead skin layer and fine hair from face and body.

Sandalwood Oil - Skin calming active; helps to remove skin imperfections, control excess oil, and soothe skin.
---
How to use
Splash some water on the face and neck. Take a coin size amount of the face wash in your palm. Rub your palms together to activate the face wash and create a lather.Massage the lather onto your face in circular motion focusing on your T-Zone for up to 2 minutes.Wash it off thoroughly with plain water. Pat your skin dry. Use the face wash twice daily to keep your skin clear of dirt and pollution.
---
Explore the entire range of Face Wash available on BuyWOW. You can browse through the complete list of Ubtan Products.
Shop Other WOW Skin Science Face Wash:
Shop Other Related Products:
Customer Reviews
Write a Review
Ask a Question
---
Manufacturing Information
Manufactured by : Kapco International Limited, Plot No 10-11, Sector 3, Parwanoo, Himachal Pradesh 173220, India
Country of Origin : India
Marketed By : Body Cupid Pvt Ltd. #51, IndiQube Penta, 5th Floor, Richmond Road, Bengaluru 560025, Karnataka - India.
*As our products are made with natural ingredients and made in small batches, there may be slight variations in their color and fragrance.