Aloe Vera with Hyaluronic Acid and Pro Vitamin B5 Hydrating Gentle Face Wash Gel with Built-In Face Brush for Gentle Cleansing - No Parabens, Silicones & Color - Tube, 100 - ml
₹359.00

Regular price

MRP: ₹399.00



Inclusive of all taxes
Give your skin the gift of gentle and wholesome cleansing with WOW Skin Science Aloe Vera Hydrating Face Wash. It is a skin-reviving face wash that helps to refresh dull skin by gently removing the layer of dead skin and keeping excess sebum in check. The face wash comes attached with a brush with gentle silicone bristles to help give your face deep cleansing on the surface and clears out the pores. It is a soothing and nourishing face wash that is highly refreshing to use after a tiring day, when your skin feels greasy and grimy. Leaves a cool, fresh sensation after use.
You Can Buy Our Aloe Vera Face Wash With Built Brush At Best Price From : Amazon, Flipkart, Nykaa, Purplle
---
WOW Skin Science Aloe Vera Hydrating Face Wash Tube with Brush

Helps to deep cleanse the skin and tone the skin.
---

Supports in protecting the skin from damage caused by pollutants.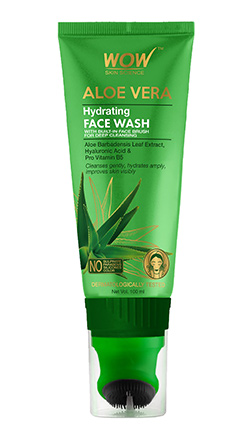 Refreshes dull, tired skin.
---

Helps to calm dry, sensitised irritated skin.
---
WHY YOU WOULD LOVE THIS FACE WASH
Helps to remove dirt and grime without drying

---
The face wash is rich in moisture and vitamins to keep the skin nourished and hydrated. It helps to clear out the pores and soften skin.
Helps to soothe irritations and keep skin toned

---
It has soothing calendula and cooling cucumber to help protect the skin from irritations and redness. Green tea helps to repair damaged skin.
Helps to prep skin for better hydrations

---
The soft, pliable bristles of the attached brush support deep cleansing of the skin. It removes dirt which helps the skin to absorb beneficial actives from moisturizers better.
---
Key Ingredients

Aloe vera - It is rich in moisture and nutrients that help to hydrate the skin, prevent moisture loss, and support in skin repair.

Green tea - It is rich in antioxidants that help to neutralize free radicals and protect skin from damage. It helps to restore collagen and keep skin youthful.

Calendula - It contains carotenoids and flavonoids that deliver antioxidant protection for skin. It helps to calm irritations and reduce skin discomfort.

Cucumber - Contains vitamin C, silica and caffeic acid; it helps to neutralize free radicals and protect from damage, supports in rejuvenating aging skin.

Hyaluronic Acid - A naturally occurring, moisture-binding molecule that holds up to 1000 times its weight in water; helps to improve hydration at cellular level and supports the collagen structure.
---
How to use
Splash some water on the face and neck. Squeeze out a little amount of the face wash onto the brush and apply it all over your face and neck.Massage your skin with the brush in a circular motion on your face and neck to remove dirt. Move from the base of your neck to the jawline and then upwards to the cheeks, nose, and forehead.Do this for a minute or so, and then rinse thoroughly with plain water. As a final rinse splash your face with cool water to close the pores and tone up the skin. Pat dry and follow with a moisturizer.
---
Explore the entire range of Face Wash available on BuyWOW. You can browse through the complete list of Aloe Vera Products.
Shop Other WOW Skin Science Face Wash:
---