Apple cider vinegar is natural, raw, unfiltered and non-pasteurized with 4% 'Mother of Vinegar' for extra potency. It has been made using cold-pressed juice of himalayan organic apples of the finest quality. Holding up the bottle with the product towards light reveals fine strands floating in it.

Apple cider vinegar by WOW Life Science is the restorative powerhouse 'Mother of Vinegar' that makes the best buy for your good health. It has been in use for thousands of years as a general tonic and folk remedy to help with healthier weight loss, lower blood sugar, better digestion, more energy, improved joint health plus better skin, hair & oral hygiene, and much more. Apple cider vinegar is a general tonic that helps boost over-all health.
---
Benefits of Apple Cider Vinegar
Apple cider vinegar guaranteed 100% pure organic by USDA, the world's foremost organic certifying mark.
---
Retains its raw and natural goodness by staying completely unprocessed.
Apple cider vinegar contains 4% natural and live mother of vinegar (seen as floating threads) for extra potency.
---
Can be used for numerous wellness applications - from digestion to hair to skin.
---
WHY YOU WOULD LOVE OUR APPLE CIDER VINEGAR
Apple Cider Vinegar
100% organic & pure
---
The apple juice used in making it comes from 100% organically grown apples - no pesticidal contamination.
Apple Cider Vinegar
Traditionally trusted with thousands of years' validation
---
Apple cider vinegar has been in use for thousands of years across the globe as a home remedy.
Apple Cider Vinegar
With real mother of vinegar
---
Gets potency from 4% mother of vinegar content, the secret behind its goodness.
---
Key Ingredients of WOW LIFE Science Organic Apple Cider Vinegar
Apple Cider Vinegar is a natural, amber-colored vinegar (acetic acid) made by fermenting apple juice in a 2-stage process. First, the apple juice is fermented into apple cider when its sugars change into alcohol. Then the alcohol in apple cider gets converted into acetic acid and it becomes apple cider vinegar. The best and the healthiest apple cider vinegar is the one that has not been filtered or pasteurized, and has mother of vinegar (visible as cloudiness/threads in the vinegar). It is rich in acetic acid, minerals, soluble fiber and live enzymes and it has anti-inflammatory, anti-viral, anti-bacterial, anti-fungal, anti-septic and anti-glycemic qualities which make it an excellent multipurpose product to keep in your kitchen and medicine cabinet.
---
More Information on Apple Cider Vinegar
What Are The Benefits of Apple Cider Vinegar?
---
Apple Cider Vinegar is clearly a multipurpose drink with abundant health benefits. If made part of your everyday life, it can help transform your body, skin and overall well-being.
Read More>>
How To Use Apple Cider Vinegar For Skin and Hair?
---
Apple Cider Vinegar is a wonderful solution that supports healthy hair and flawless skin. Rich in acetic acid, vitamins, enzymes and mineral salts, this golden elixir is a must-have product in your healthcare kit.
Read More>>
Is Apple Cider Vinegar Good For Weight Loss?
---
To use Apple Cider Vinegar for weight loss, add 1 tbsp of Apple Cider Vinegar to 1 cup of water. Drink on an empty stomach in the morning or before meals.
Read More>>
---
Shop Apple Cider Vinegar Range:
Shop Other Related Products:
Customer Reviews
Write a Review
Ask a Question
04/16/2022
Maitri S.

India
Good product
Wow Organic Apple Cider vinegar is a good product...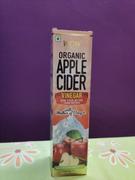 We are happy to learn that you are pleased with your purchase. Thank you so much for taking the time to leave us this wonderful review. -Tasmiya
04/01/2022
Riya

India
Nice Product
Must buy
Thank you so much for your amazing review! We are so happy to hear that you are enjoying your product purchase. Please let us know if we can help you with anything further, and thank you for taking time out of your day to leave us this super kind review. -Shammi
03/19/2022
Anurag

India
Goood
This was good
Hello Anurag, thank you so much for taking the time to write to us. We are glad to know that. -Tasmiya
---